Lara Jean may have chosen Peter, but we're still not done with John Ambrose! Our rising star of To All The Boys: P.S. I Still Love You made us swoon and wish we all got invitations to the Star Ball to have that one dance with him in the snow. Just because he's fictional doesn't mean the RIGHT book boyfriend can't exist, right? To help you join the #TeamJohnAmbrose train, we've compiled a list of reasons why John Ambrose McClaren would be the perfect boyfriend and why you should totally love John Ambrose just as much as we do.
16 Reasons Why You Should Love John Ambrose!
Reason #1: That first smile
Because who can resist that smile?? Even after years of not seeing him, Lara Jean still (literally) fell for him.
Reason #2: That penmanship

Lest we forget that John Ambrose was the only one to write her a full letter in response instead of notes or texts AND was the most passionate letter she sent any of the five. (Actor Jordan Fisher also wrote this himself!)
Reason #3: He's passionate about world affairs
Last time Lara Jean checked in with John Ambrose, he was still in his school's Model UN. While we didn't get to see his diplomatic affairs in the movie, he does show he cares about future generations and their qualms with deforestation and urban overcrowding.
Reason #4: He's the deviled egg to her French toast
The Halloween party was the sweetest memory of any of the five letters. When we heard this from Lara Jean's letter, we were all echoing the same thing: why oh WHY did you have to move away, John Ambrose?
Reason #5: He was the only one to volunteer at Belleview with Lara Jean
Coincidence or not, having a friendly face to volunteer with definitely helps, especially with Margot off to college and Peter volunteering with his lacrosse team. He was also fully prepared to make sure she didn't have a concussion after she fell, so props to John Ambrose for also coming prepared with medical expertise!
Note: In the book, he doesn't volunteer at Belleview BUT! he does come and visit his grandma Stormy, which is still totally adorable!
Reason #6: He's totally lame in a cool way
We stan a man who would rather spend his time moderating bingo than playing flip cup. Lara Jean and John Ambrose have been in sync since the very beginning! 
Reason #7: HE READS 
Lara Jean and John Ambrose spent a lot of time together in the treehouse reading Harry Potter together– he's even a Hufflepuff just like her! Any reader knows all soulmates are sorted into the same Hogwarts house.
Reason #8: He's got great piano skills
Fictional or not, how does a high schooler have time to participate in Model UN AND master the piano? John Ambrose is a Jack of All Trades.
Reason #9: He loves having something in common with Lara Jean
From now on, my ultimate goals from are going to be John Ambrose confessing to Lara Jean that he asked people to call him by his first and middle name because she started calling him John Ambrose first and he wanted to have something in common with her.
Reason #10: He only cared about her in middle school
Since Lara Jean and John Ambrose reunited, he's made it clear that even though he was close to Peter and his friends, the only opinion John Ambrose cared about in middle school was Lara Jean's. He listens and values her so much!
Reason #11:  He brought the pizza!
Pizza was the subject of hot contention between LJ and Peter, but the fact that John Ambrose brought it proves two things about him: A) he came through on something so small and B) proves how loyal and dependable he is. Don't forget: Lara Jean made the chocolate peanut butter cupcakes for John Ambrose and the time capsule party FULLY KNOWING salted caramel were Peter's favorites.
Reason #12: He knows how to CLEAN UP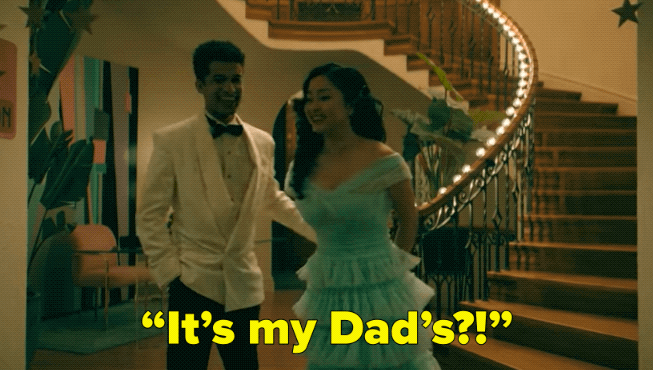 Lara Jean's Star Ball transformation is stunning, but look how amazing John Ambrose looks in his dad's suit! This look alone should be enough to charm the pants off anyone.
Reason #13:  That dance spin
Move over, pocket-spin: John Ambrose has got the moves.
Reason #14: He knows how to have fun with her
When was the last time Peter was able to have this much carefree fun with LJ when it wasn't under the guise of a date or trying to hide from Gen? John Ambrose has always been about enjoying his moments with Lara Jean since seventh grade and hasn't stopped since.
Reason #15:  That kiss!
A totally swoonworthy moment taken straight from a K-drama.
Reason #16:  He respected that she didn't want him
Even though we're internally screaming that Lara Jean didn't pick John Ambrose when she had the chance, he respected her choice and let her run after Peter.
Don't worry, John Ambrose. Rest assured you're the right guy for some lucky person out there.
Can't get enough of John Ambrose? Check out P.S. I Still Love You by Jenny Han here!