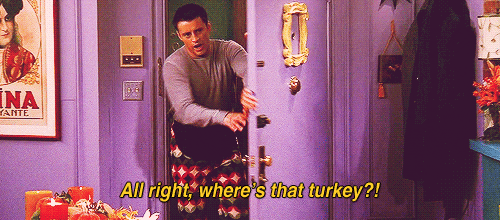 We here at Riveted have much to be thankful for this Thanksgiving season: warm cups of coffee, that new book smell, cozy libraries, energetic YA fans, and so much more. Most importantly, we're thankful for all of the awesome authors who make our reading experience so great! They're the creators who take us to new worlds, put us in the middle of swoon-worthy romances, make us laugh (and cry) in public, and capture our imaginations with many beautiful turns of phrases.
We asked our authors what they're thankful for this year, so while you stuff your face with turkey and mashed potatoes, check out what they had to say:
"I'm thankful for books! I'm eternally grateful for the release reading gives me, as well as the opportunity to inhabit, even briefly, other people's imaginations."
"This year I'm thankful for the voices of people standing up for who and what they are, even if that means that those of us hearing those voices have to reconsider how we view the world, how we view gender, how we view human rights, and how we view ourselves. The fact that this country not only allows for that but is built upon such freedom of expression makes me grateful every single day."
"This year I am reminded of how grateful I am to be living in this time and place–thankful for the freedom to use my voice in my work and in my life, and thankful to be surrounded by a supportive family made up of members both given and chosen (and four-legged). "
"I am thankful for the vastness of space, that it may contain aliens who will save us."
"This Thanksgiving, I'm especially thankful for my two little ones, my greatest muses and my most joy-filled distractions.  My children remind me to live in the moment, but also do what I can to work for a better and brighter tomorrow."
"This year, I am thankful like whoa for the letters I've received from my readers. An email from a homeschooled teen (which I was not too long ago!); a note from a mother reading my book aloud to her daughters; a shout-out from a bookseller and her children's book club. Readers are the reason I do what I do, and letters like that? They've brightened my entire year."
S.J. Kincaid, author of The Diabolic:
"This Thanksgiving, I'm thankful for the two best friends I included in the acknowledgements of my book: Jamie and Jessica. My friendships with them are a continual inspiration, and they've given me so many of my best laughs, best moments, best memories."
Carol Lynch Williams, author of Messenger:
"These last few months have been full of sorrow at the passing of people I love. This season I am thankful for family and the life-long friends I've made because I get to write."
"I'm thankful for what loving, kind, and compassionate young adults my kids are growing into. They are the best of me and I'm proud to be their mom."
"In our sometimes challenging and often discouraging world, I am most thankful for my book and literature and art community! Our passionate and creative community of book creators and readers is what gives me hope—that's my shining beacon in the dark."
Simon Curtis, author of Boy Robot:
"I am grateful for the gift of life, to be able to do what I love, the platform to share a positive message with young people, and Britney Spears."
"I'm grateful that my kids are healthy and happy, and that I get to live (finally!) in the part of the country I've always wanted to live. And I'm grateful I found a way to have a voice through my writing."
"One of my goals this year was to be aware and grateful for something every day, big things and small. So my list includes all kinds of stuff, like the glide of my favorite pen on paper, that shiver of excitement when the writing is going well, my getting-older dog still running to greet me, the outrageous pinks, purples, and oranges of our sunset, losing myself in an amazing book, and celebrating Thanksgiving with my family in a couple of weeks, including both of my parents."
"I'm thankful that books still exist as the most potent delivery vessel for ideas, whether they're radical, inspirational, cautionary, or revolutionary."
"I am thankful for the library in my graduate school where I often sit to work on revisions or first drafts. The study carrels face huge picture windows that overlook the mountains, and the sense of calm and creativity that overtakes me cannot be overstated!"
"With such fear and uncertainty facing people of color in the United States now, I am grateful for the poem 'Awaken' by Puerto Rican poet Julia de Burgos. One line from it reads, 'And heroically defend the innocence of your homeland and its virtue.'"
"I'm grateful for all the people who use their voices to speak up and defend those who may not be able to do it themselves.  You make this world a better place."
"This year, I'm grateful for books – how they can be your companion and comfort when you need it the most."
"I'm thankful to all the diverse voices I've discovered in the YA world from authors to fledging writers and bloggers. Hearing their stories and connecting with them has given me more courage to add my voice to theirs!"
Heather W. Petty, author of Lock & Mori:
"I am thankful for the community of YA authors who use their voices, not just to tell their stories, but also to educate and stand up against injustice and for inclusion and a better world. I've learned so much these past few years and I am so very thankful to call them my friends and colleagues."
"At the risk of sounding corny, I'm always so incredibly grateful for my readers, especially the ones who contact me via email or social media. I can't tell you how many times I've been having a bad day, and then someone drops me a note to say how one of my books touched them in some way. Bam! Suddenly all is right in the world again."
Cindy Pon, author of Want:
"One of the greatest things I am thankful for this year is the opportunity to publish Want with Simon Pulse in 2017. This story and these characters have been with me for years, and to know I can finally share Want with the reading world means so very much to me."
"I'm thankful for my best friend, Jenny Han. Knowing her has made my life better in more ways than I could ever count."
"In the wake of this contentious election, I'm thankful for the equal opportunities guaranteed every American under our Constitution, and for those who stand in steadfast support of our sisters and brothers, whatever their color, gender, religion and/or sexual identity. We are stronger together, so I hope we can reach across the table and share our pumpkin pie."
Lindsey Rosin, author of Cherry:
"As always, but now more than ever, I am thankful for all the strong female voices and friendships in my life. I'm especially thankful for the friends I've shared countless cups of froyo with over the years, my sister, Maxine, and my incredible mom, Karen. Like "The Crew" in Cherry, I really am the luckiest."
"I'm especially grateful for my family at this time of year, because gratitude is a memory of the heart. The world is often chaotic and confusing, but when I'm with those I love, I feel peace."
Tell us, readers, what are YOU thankful for this year?