Unless you've been living under a rock lately, you've no-doubt heard of (and probably binged watched) Netflix's new original series Stranger Things. Filled with spine-tingling suspense, precocious child actors, and a premise that will keep you guessing, Stranger Things is a captivating story that pays homage to the 1980s and the works of John Carpenter, Stephen King, and Steven Spielberg. Fans of season one have even more creepy goodness to look forward to, as Netflix just announced plans for season two to release in 2017. Check out the trailer below!
Throughout the series we learn of several of the characters interests: Mike, Lucas, Will, and Dustin are absorbed with Dungeons and Dragons. Jonathan loves photography and The Clash. And El loves Eggos. But as I watched, the bookworm in me wondered what I might find these characters reading (when they're not exploring the Upside Down or fighting off the Demogorgon, of course). Here are books I think we'd find each character reading, both back in the 80s and today.
____________________________________
Will
THEN: The Chronicles of Narnia: The Lion, the Witch, and the Wardrobe by C.S. Lewis
NOW: Eragon by Christopher Paolini
Though Will is certainly at the epicenter of the drama in Stranger Things, he's also on screen the least. We know Will is a sweet boy with a big imagination—the opening scene with his friends and his backyard fort are evidence of this. That's why I think Will would love the whimsy of The Lion, The Witch, and the Wardrobe by C.S. Lewis. What would be better for a kid than to find a portal to magical worlds within his own house? If Will were growing up today, he'd enjoy Eragon by Christopher Paolini, the story of a poor farm boy whose life is changed forever after the discovery of a dragon egg in the mountains.
____________________________________
Mike
THEN: The Homeward Bounders by Diana Wynne Jones
NOW: The Spiderwick Chronicles by Tony DiTerlizzi and Holly Black
Hopelessly devoted to finding out what happened to Will and discovering the truth about El, Mike is most willing to accept the stranger things happening among them. El has mind control powers? Cool. Will is trapped in the Upside Down? Fine. They must fight off a giant monster in order to save everyone? Not a problem. Mike maintains a cool head through most of it. That's why I could imagine him enjoying The Homeward Bounders by Diana Wynne Jones, a story in which a 12 year-old boy must travel through parallel universes filled with demonic entities in order to get home. The Spiderwick Chronicles also brings the central characters into a different universe–one filled with faeries.
____________________________________
Dustin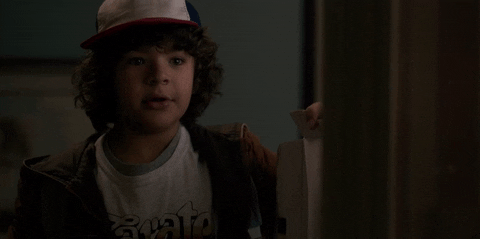 THEN: The Mad Scientist's Club by Bertrand R. Brinley
NOW: Attack of the Alien Horde by Robert Venditti
The affable and sarcastic Dustin has a penchant for science and a love for the A/V club. He'd probably be caught reading The Mad Scientist's Club, a series of books about a group of boys who solve mysteries from their clubhouse and from the electronics lab above a local hardware store. Today, Dustin would love Attack of the Alien Horde, book one in the Miles Taylor and the Golden Cape series. Combining action and humor, the story follows a boy who is unexpectedly thrust into becoming a super hero when he inherits a golden cape.
____________________________________
Lucas
THEN: Bridge to Terabithia by Katherine Paterson
NOW: Harry Potter and the Deathly Hallows by J.K. Rowling
Lucas is the no-nonsense, practically-minded one in the bunch. While Mike and Dustin were willing to accept the strange goings-on in their small town, especially with El, Lucas was a little more hesitant to accept everything. Nevertheless, when it ultimately came down to helping his friends, El included, Lucas stepped up to the plate. A passionate friend, Lucas would love Bridge to Terabithia, the story of Jesse, a young boy who creates a magical world with his friend, and faces the hardships that come with facing that friend's death. Lucas would also identify with Ron Weasley in Harry Potter and the Deathly Hallows, when Ron briefly doubts the mission he, Harry, and Hermione are on, only to return later to heroically save Harry and destroy a Horcrux.
____________________________________
Eleven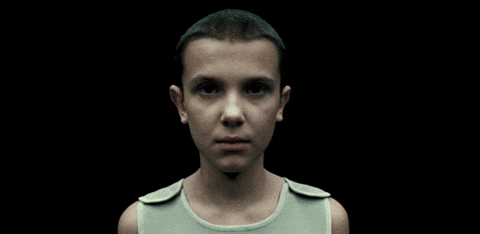 THEN: Matilda by Roald Dahl
NOW: Miss Peregrine's Home for Peculiar Children by Ransom Riggs
The mysterious El would likely only be interested in reading the back of an Eggos box, but if she were to identify with a classic children's book character, it would definitely be Matilda, a young girl who uses powers of telekinesis to fight against those who do ill against children. El would also feel right at home in Miss Peregrine's Home for Peculiar Children, where a boy discovers an orphanage full of children with special abilities or powers.
____________________________________
Nancy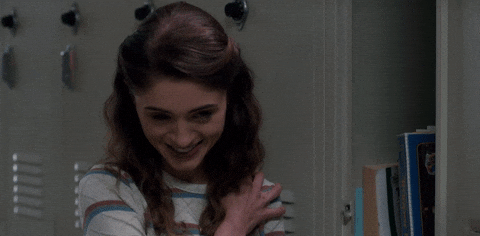 THEN: Forever by Judy Blume
NOW: The Unexpected Everything by Morgan Matson
Nancy is a Type-A personality whose world of straight As and studying is shaken up by the attention of Steve, the resident high school heartthrob who has taken an interest in her. Nancy would likely be drawn to titles like Forever by Judy Blume, which tells of a teen girl's exploration of her sexuality with her boyfriend. Today's Nancy would relate to Andie, the central character of The Unexpected Everything, who has to give up control of her plans when her father's political scandal disrupts her summer.
____________________________________
Barb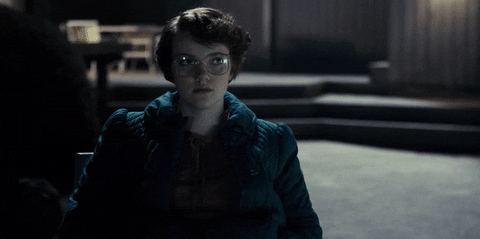 THEN: A Wrinkle in Time by Madeline L'Engle
NOW: Eleanor & Park by Rainbow Rowell
Fan-favorite Barb is a smart and thoughtful teen who isn't impressed with the cool kids. I can imagine Barb reaching for reading that's a little more high-brow, like Madeline L'Engle's A Wrinkle in Time, a book which not only features an unpopular female protagonist who struggles with her physical appearance, but has major themes of nonconformity and rebellion as well. Barb would also identify with Eleanor  of Rainbow Rowell's Eleanor & Park, a curvy redhead whose difficult home life leads her to escape into comic books, music, and a first relationship with her classmate Park.
____________________________________
Jonathan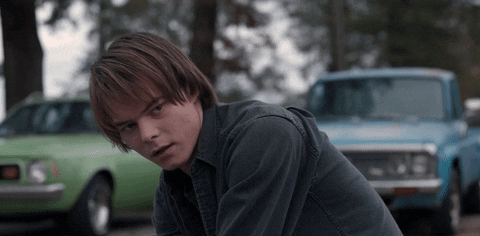 THEN: The Catcher in the Rye by J. D. Salinger

NOW: Please Kill Me: The Uncensored History of Punk by Legs McNeil and Gillian McCain
Bullied and often beaten-down, Jonathan is a quiet kid who has taken on more responsibility in his home after his parents' divorce.  Jonathan would definitely identify with Holden Caufield, the protagonist in Catcher in the Rye, who often feels alienated and misunderstood. In today's world, Jonathan would be pouring over Please Kill Me: The Uncensored History of Punk to learn all about the artists he idolizes.
____________________________________
What other books could you imagine the Stranger Things characters reading? Do you agree with our picks? What are you most looking forward to in season two? Leave a comment below to let us know what you think!