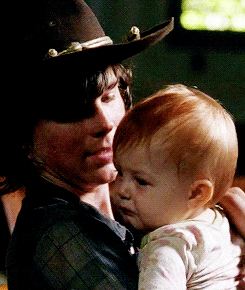 As bookworms, we often escape the realities of our lives by diving into the worlds of the books we read. So imagine if your reality is fighting the undead, staving off enemies, trying to keep yourself alive with food and shelter, and dealing with a father who is going slightly off the deep end (c'mon Rick, get it together). Such is the case for Carl and Judith Grimes, aka the First Children of The Walking Dead.
Carl can usually be found intimidating his father's enemies, trying to flirt with the only girl he knows, and joking around with his bff/step mom Michonne. We sometimes see him reading comic books, but not often. When Judith isn't threatening the safety of everyone around her with her baby cries, she's usually snoozing during Wolf attacks, getting her cheeks pinched, and playing with Solo cups.
Now that the group seems to have settled in Alexandria for awhile, I think Carl and Judith would enjoy relaxing with the following titles: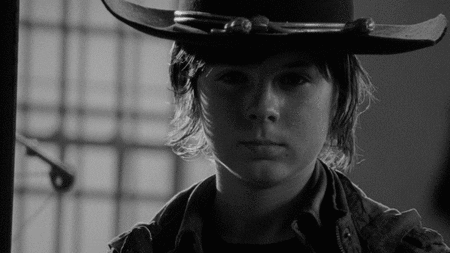 Books for Carl:

Benny Imura lives in a world infested with zombies and must work or have his rations cut in half. He goes to work as an apprentice for a zombie hunter and learns much more than the best way to kill a zombie. [Rot & Ruin is also currently our featured free read! Read it while you can, it will be available until 10/17!]
This exciting novel about a boy who finds himself inside a video game is perfect for Carl–whose real life probably feels the same way. But Bryan Biggins, the central character of Insert Coin to Continue, must navigate the treacherous world of middle school in his video game challenge.
This post-apocalyptic graphic novel is equal parts adventure and humor. When the apocalypse hits his town, Jack holes up in a tree house with supplies. But with the arrival of a threatening monster, Blarg, he has to team up with his friends, and his crush, to defeat it.
This compilation from the Horror Writers Association, with authors like R. L. Stine, Neal Shusterman, and Ellen Hopkins, covers all things scary–from mermaids and ghosts, to personal demons. With over 20 pieces, Scary Out There has something to frighten everyone.
Zeroes by Scott Westerfeld, Margo Lanagan, and Deborah Bianccotti
Described as "X-Men" meets "Heroes," this exciting start to the YA trilogy focuses on six Californian teens with powers that set them apart. When one of their own gets in trouble, the others must push past their differences, and use their unique gifts, to help save each other.
---
Books for Judith:
Cute while being sinister, this quirky picture book tells the story of one very hungry lion, and an assortment of animal friends who become less and less as the story continues.
Zombie in Love by Kelly DiPuccio, illustrated by Scott Campbell
Hapless Mortimer is simply looking for love–but it's a bit difficult when he keeps losing limbs and scaring all the ladies. This delightful take on zombies proves that even the undead can find love.
When a small fish steals a blue topper from a bigger fish, the audience is in on the joke as the small fish, believing he's gotten away with his mission, happily swims away, unaware he's being pursued. This story full of deadpan humor will make even adult audiences gasp.
I Will Not Eat You by Adam Lehrhaupt, illustrated by Scott Magoon
Theodore lurks in his cave watching all sorts of meal possibilities walk by–a bird, a wolf, a tiger–but it's not until he sees a boy walk by is his interest piqued. Will he pounce on his next meal, or maybe find an unlikely friend?
Though most zombies wander around Quirkville hunting for brains, Reginald wanders in search of something tastier—peanut butter and jelly sandwiches! Can he convince his undead friends that there's more to life than eating just brains?
What do you think Carl and Judith would be reading? Do you have any zombie-specific books you love? Tell us in the comments!
The Walking Dead will return for it's seventh season on Sunday, October 23 at 9 p.m. on AMC. Til then, don't get bit!